Managed IT Services Perth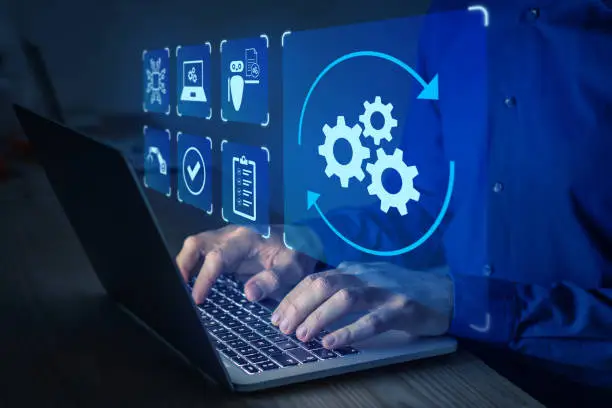 Western Technology Managed IT Services
At Western Technology, we are a leading provider of Managed IT Services in Perth. 
With a client-centric approach, our skilled team ensures reliable technology solutions that align with your business objectives. 
From proactive monitoring to seamless network management, we optimize performance and security, empowering you to focus on core growth. 
Trust Western Technology for personalized, efficient IT support that drives success and streamlines your operations.
Book a

FREE

IT

infrastructure assessment

!
Key Components of Our IT Infrastructure Assessment:
Hardware and Network Evaluation: A detailed examination of your existing hardware, network architecture, and performance levels.

Security and Compliance Audit: An analysis of your current security measures, including vulnerabilities, compliance with industry standards, and recommended improvements.

Software and Application Inventory: A comprehensive inventory of your software and applications, including licensing, versions, and recommendations for updates or replacements.

Performance and Capacity Analysis: An assessment of system performance, including any bottlenecks or capacity limitations that may be affecting productivity.
The Process:
Initial Consultation: We'll schedule a consultation to understand your business objectives, current challenges, and specific areas of concern.

On-Site Assessment (if required): Our expert team will conduct an on-site evaluation of your IT infrastructure, gathering data and insights.

Analysis and Recommendations: Based on our findings, we'll provide you with a detailed report outlining our assessment, along with tailored recommendations for improvement.
We handle all of your IT needs
100%
You spend less time worrying about IT
100%
Our Managed IT Service is like having your own dedicated IT department, tailored to meet your business needs. We handle all your technology concerns, so you can focus on what matters most: growing your business.
With Managed IT Services, we proactively monitor and maintain your systems 24/7, preventing issues before they become major problems. Our expert team ensures your network is secure, data is backed up, and software is up-to-date, keeping your business running smoothly.
No more worrying about downtime or unexpected IT costs. We provide predictable, fixed-rate plans, allowing you to budget with confidence. Plus, our fast and friendly support is just a call away whenever you need help.
Experience seamless technology, increased productivity, and enhanced security with Western Technology's Managed IT Service. Join our satisfied clients who have entrusted us to elevate their businesses. Let's work together to take your business to new heights!
To learn more about Managed IT click here.
Clients we've worked with
24/7 IT Help Desk Support
Providing round-the-clock assistance to end-users for IT-related issues and inquiries.
Network Monitoring and Management
Proactively monitoring and managing the your network infrastructure for performance and security
Hardware and Software Support
Handling hardware troubleshooting, maintenance, and software support for various devices and applications.
Implementing and managing security measures like firewalls, antivirus, anti-malware, and intrusion detection systems.
Data Backup and Disaster Recovery
Regularly backing up critical data and establishing disaster recovery plans to ensure business continuity.
Keeping systems up to date with the latest security patches and software updates.
• Healthcare and Medical Practices
• Legal and Law Firms
• Finance and Accounting
• Manufacturing and Industrial
• Retail and E-Commerce
• Education
• Hospitality and Tourism
• Real Estate and Property Management
• Non-for-profit organisations
• Construction and Engineering
• Creative Agencies and Marketing Firms
• Government and Public Sector
• Transportation and Logistics
• Energy and Utilities
• Professional Services
Our Managed IT Approach
At Western Technology, our approach to Managed IT is defined by a commitment to excellence, a proactive mindset, and unwavering dedication to our clients' success. Here's a glimpse into our approach:
CLIENT-CENTRIC SOLUTIONS​
We begin by understanding your unique business needs, challenges, and goals. This client-centric approach ensures that our Managed IT solutions are tailored precisely to your requirements, optimizing your technology for peak performance
SECURITY FIRST​
Cybersecurity is a top priority. We employ robust security measures and best practices to safeguard your digital assets, protecting your business from the ever-evolving threat landscape.
STRATEGIC PLANNING​
Beyond resolving immediate issues, we work closely with you to develop a long-term IT strategy. This strategic planning aligns your technology infrastructure with your business objectives, ensuring that your technology investment supports your growth.
Holistic Efficiency
Our Managed IT Approach encompasses the full lifecycle. We focus on preventing issues and keeping your IT environment efficient. Partner with us to adapt, grow, and excel in the digital world.
Success-Centric Strategy
We're committed to your success. Our approach involves proactive problem-solving, meticulous planning, and ongoing support. Together, we ensure your technology environment empowers your business for growth and adaptability.
Preventative Precision
Western Technology's approach starts with assessments and preventative measures. We build a resilient IT environment to anticipate and address challenges. Our aim is to keep your business operations seamless.
Powered by leading partners
Why Work With Western Technology?
If you have any further questions or need more information, feel free to contact us, and our friendly team will be glad to assist you.